The highest possible comfort. Services that exceed your expectations. Located right in the centre of the Polish capital. All this and more can be found at Mamaison Hotel Le Regina Warsaw.
We have prepared a space that will exceed all your expectations in the historical Mokrowsky Palace. Accept our invitation and treat yourself to a unique atmosphere, one so special that our guests love to come back to us.
The best attractions in the city are within easy reach. Old Town Square is just a 5⁠-⁠minute walk away, and the Royal Castle is less than 10 minutes away. The popular Fountain Park and the Vistula River are just 150 metres from the hotel. All of these monumental sites are the perfect opportunity to stroll and sit in one of the many local restaurants.
We won the award for the best boutique hotel in the whole of Poland. However, our greatest reward is the satisfaction of our guests, for whom we do our best, 24 hours a day, 7 days a week.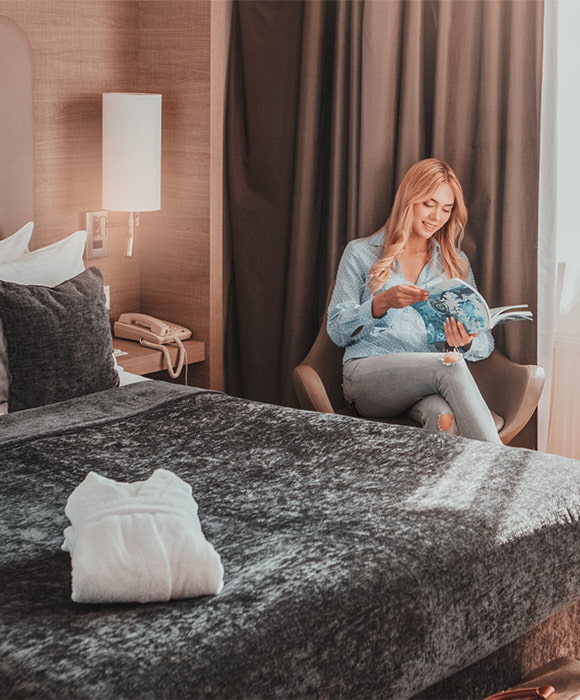 Check⁠⁠⁠⁠⁠⁠⁠⁠⁠⁠⁠⁠⁠-⁠⁠⁠⁠⁠⁠⁠⁠⁠⁠⁠⁠⁠in ⁠-⁠ Do you need to arrive early? Please contact us. Our reception is fully available 24/7.
Early check⁠-⁠in is subject to availability.

Check⁠⁠⁠⁠⁠⁠⁠⁠⁠⁠⁠⁠⁠-⁠⁠⁠⁠⁠⁠⁠⁠⁠⁠⁠⁠⁠out ⁠-⁠Sometimes more time is needed. We will be happy to accommodate you. Just let us know in advance, please.
Late check⁠-⁠out is only possible if the hotel has free capacity.

---
Try the services of a five⁠-⁠star hotel to make your day more enjoyable. Please do not hesitate to contact our staff if you have any questions. Whether you're on holiday or travelling for work, we'll make you feel at home.
Free Wi⁠-⁠Fi throughout the hotel
24⁠-⁠hour room service
Spa with indoor pool, sauna and massages
Concierge service
Hotel transfer
Laundry and ironing service
2 conference rooms for up to 170 people
Banquet and catering service for events
Free event planning and MICE concierge
Parking