Contact us
Mamaison Hotel Le Regina Warsaw
Kościelna 12
00⁠⁠⁠⁠⁠⁠⁠⁠⁠⁠⁠⁠⁠⁠⁠⁠⁠⁠⁠⁠⁠⁠⁠⁠⁠⁠⁠⁠⁠⁠⁠⁠⁠⁠⁠⁠⁠⁠⁠⁠⁠⁠⁠⁠-⁠⁠⁠⁠⁠⁠⁠⁠⁠⁠⁠⁠⁠⁠⁠⁠⁠⁠⁠⁠⁠⁠⁠⁠⁠⁠⁠⁠⁠⁠⁠⁠⁠⁠⁠⁠⁠⁠⁠⁠⁠⁠⁠⁠218 Warsaw
Poland
Show on map
How to reach us?
Mamaison Hotel Le Regina Warsaw is located in the historic Mokronowski Palace, in the heart of Warsaw's New Town. On arrival you will find yourself very close to the Multimedia Fountain Park (300 m), Old Town Square (500 m) and the famous Royal
Castle (850 m), located right in the ancient heart of Warsaw. The Krasiński Garden (5⁠-⁠minute walk) and the POLIN Museum of the History of Polish Jews (15⁠-⁠minute walk) are also nearby. The Polish National Opera, or Grand Theatre, is just 1.5 km away.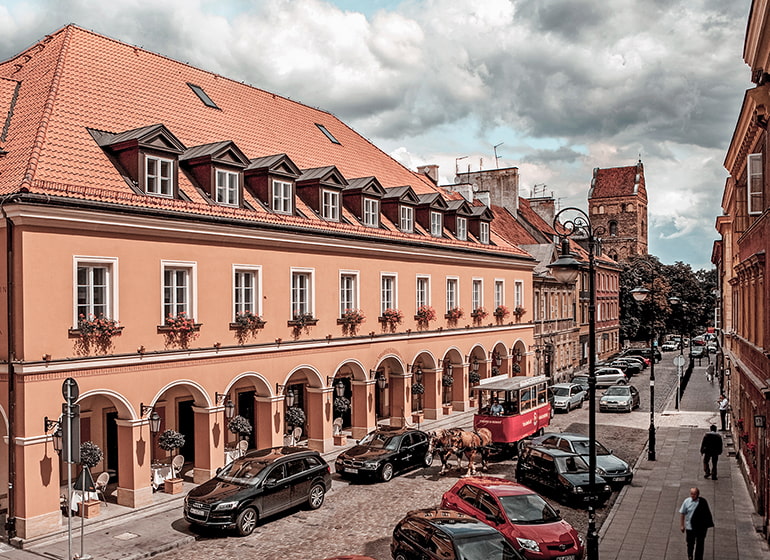 Our hotel is located about 14 km from Fréderic Chopin Airport; the main train station is about 5 km away.
It is also close to the bus ⁠-⁠ less than 5 minutes' walk (the Franciszkańska 02 and Konwiktorska 03/04 stops). If you want to visit us by car, please arrange with us to use the hotel parking spaces.
If you are travelling to us from Muranów, Stare Miasto (Old Town) or Żoliborz, head towards Nowe Miasto (New Town). You can get to the hotel along Bonifraterska, Francziskańska, Zakroczymska or Wójtowska streets. The next street is Przyrynek Street, which takes you to our street, Kościelna. The hotel can be found on the right⁠-⁠hand side.
The main railway station (Warszawa Centralna station) is about 5 km away. Go to the DWORZEC CENTRALNY 07 tram stop from the Main Railway Station (you can take any tram to get to the centre). Then take the metro to the CENTRUM 08 stop in the direction of Żoliborz. Take tram 35 or 15 and get off at MURANOWSKA 08. Our hotel is located 800 meters away (a 10⁠-⁠minute walk). At night, we recommend taking the N44 bus in the direction of Zajezdnia Zoliborz.
Warsaw Frederic Chopin Airport is situated around 14 km to the south of the city centre. Take the 175 bus to Plac Piłsudskiego 06 (about 30 minutes), change to the 503 bus (towards Konwiktorska 01) and take it to Plac Krasińskich 02. Our hotel is 750 m away from there (around a 10⁠-⁠minute walk). Świętojerska Street and Freta Street will lead you to us, to Kościelna Street. You also have the option to book a transfer from the airport to the hotel in our hotel limousine.